CORRAL, a Christian nonprofit organization, heals and transforms girls in high-risk situations by pairing them with rescued horses.
Are you thinking this sounds like other "horse ministries" you have heard of in our community?
CORRAL is Unlike Any Other Horse Ministry. And Here's Why.
We're different because we've been influenced by the best and the brightest, and our results speak to that.
Equine therapy is a rather new industry. We've known for decades that horses heal people, but the specific methods have just begun to surface over the past decade. During that time, we've been influenced by the best and the brightest in our industry, and that has created a long-term holistic intervention that results in positive life change.
Teach for America
Long before I became CORRAL's founder, my first job out of college was teaching in inner-city Philadelphia through Teach For America. As a brand new teacher, I was required to gather data on Day 1 in order to monitor the growth (or lack thereof) of my students year over year. The expectation for Teach For America corps members was to grow our students two grade levels for every one year in our classroom. This "high expectations" outlook was foundational to my career.
My next step in my career was as a founding teacher experience at one of the country's top Charter-school Management Organizations, Uncommon Schools. There I learned how a Culture of Achievement would set up students and adults for success against the high expectations placed upon them through Teach For America and the movement to close the Achievement Gap in our country. Such early success spurred me to obtain my master's degree in School Leadership at the top educational institution in our country, Columbia University's Teachers College. The primary focus was leading schools and educational communities in our country's most undeserved communities.
The Beginning of CORRAL
When founding CORRAL in 2008, we modeled our program after some of the first programs of our type in the country: Compton Jr Posse and Work to Ride. Then, in a fledgling equine therapy industry, we were trained by some of the pioneers: Greg Kiersten at OK Corral and Mark Lytle at EAGALA. But our understanding of the most appropriate Equine-Assisted Therapy surfaced when we began to combine the horsemanship teachings of Buck Brannaman and Natural Lifemanship to create a Trauma-Focused Equine-Assisted Psychotherapy model that we refer to at our farm as our "curriculum."
This eclectic influence has paid off to create something no one else in the industry is doing: creating a high-quality intervention, with measurable outcomes and identifiable long-term impact on the youth we serve. Not only that, but we have identified our secret sauce and made sure it is reproducible. Now, we are scaling up. This assertion of success has been corroborated by North Carolina State University researchers.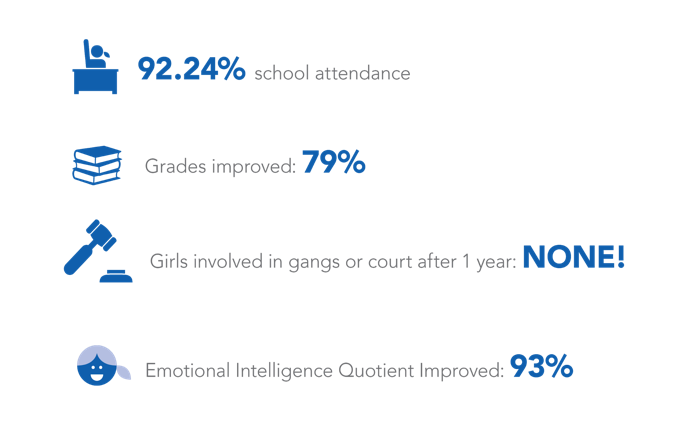 What nonprofit do you know that can say its outcomes have been researched? This validation is the blessing and the privilege that God provided us to start CORRAL. It's through these blessings that we get to do this phenomenal work and hold ourselves, our girls and our organization to the highest level of expectation and accountability.
We believe our girls deserve the best, and we bet you do, too. To expand this model to other kids in our community, please join our mission.
Stay tuned for Part Two of 'What Makes CORRAL Unique'.