TRANSFORMATION DOESN'T HAPPEN OVERNIGHT
CORRAL's impact lasts a lifetime.
"I have a place where I belong and it's here I have a family I can count on. I feel loved and accepted and I didn't realize until today that, inside myself, I deserve to live."
CORRAL Participant
"CORRAL has absolutely supported my role as a caretaker and new foster parent. When issues came up, the CORRAL staff was able to help her and include me in addressing and resolving them - something that by ourselves would have been incredibly difficult. Our girls need safe spaces like CORRAL to socialize in healthy ways, learn vital skills and gain academic support on top of that. It makes a huge difference in their outlooks for the future; right there, it uplifts the communities they're part of because if they can thrive, so can those around them. It's a ripple effect. I can't imagine our lives throughout the pandemic without CORRAL."
Corral Parent
"When I'm at CORRAL, I can be myself and I'm free to face my problems without embarrassment or shame. That was a hard lesson I learned much later in the program. I was still getting better with coping and facing my problems. I've learned so many lessons at CORRAL but one of the most important for me is "self love is the best love." My anxiety doesn't define who I am; I'm so much more. CORRAL makes me feel free. Bob gave me purpose and direction that I haven't found anywhere else."
Carson
CORRAL Alumna
"I've been in therapy since 6th grade but CORRAL was the only type of therapy that actually worked. When I dropped out of high school and ended up being hospitalized in 2020, Ms. Katie and Ms. Lauren would call me and check up on me all the time, to make sure I was okay. Ms. Katie normalized asking for help and speaking up when something's wrong. They taught me tools that I could take home and that I'm still using today."
Maddie
CORRAL Alumna
"At my school most of the freshmen are doing bad right now with our grades because we're so used to not taking it serious when we were in virtual school. It was different for me because I had CORRAL to keep me focused."
A CORRAL Student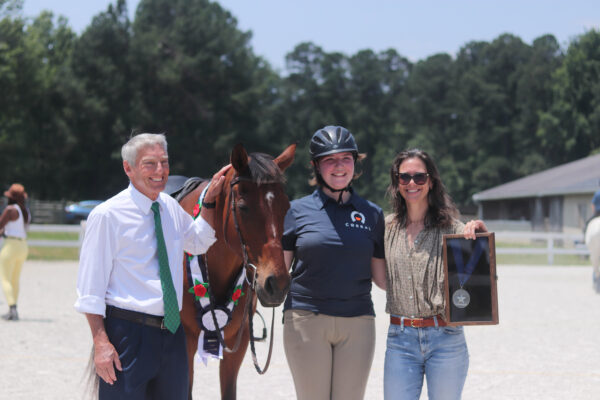 This year at CORRAL's Kildaire End of Year celebration, the City of Cary presented our horse…