April is National Child Abuse Prevention Month, and we are calling out to everyone to help make our community a better place for families and children. Thousands of cases of child abuse are reported every year in Wake County, and those numbers are expected to surge during this crisis.
At CORRAL, we're all too familiar with child abuse. In fact, the majority of our girls have been victims of abuse. We intervene during the formative years of their lives with our five-pillar approach to provide healing and life-changing transformation. This is a crucial step in preventing the transmission of inter-generational trauma, which is often unconsciously passed on from parent to child and so forth. On the farm, abuse can manifest in our girls as aggression, shutting down, depression, or anxiety and is closely tied to the risk factors shown below.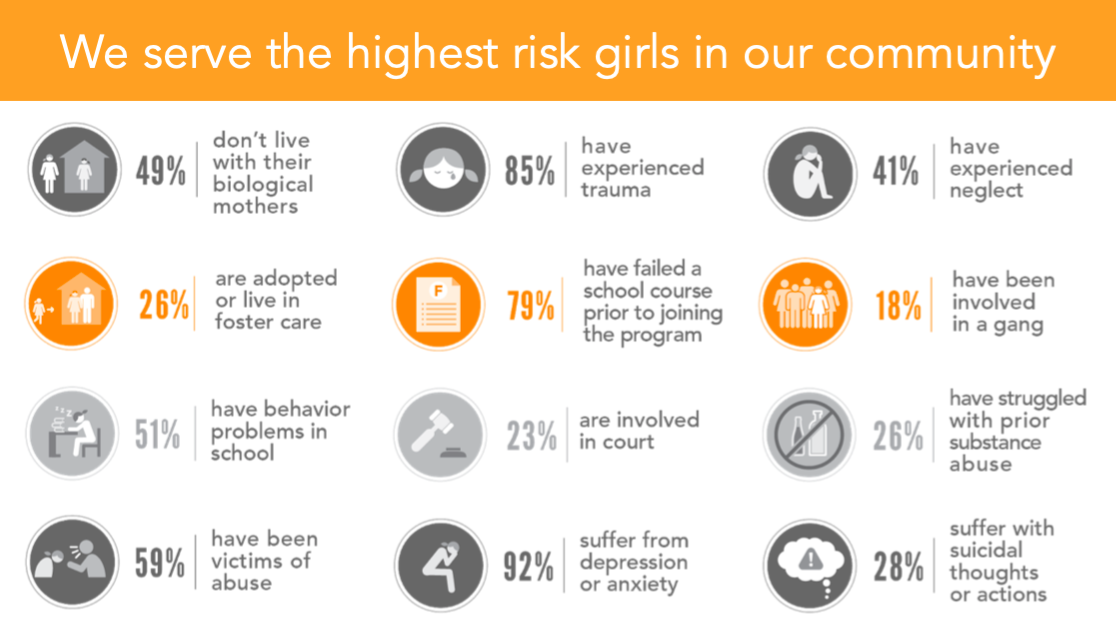 What are we doing as a community?
By extending our services to our parents, we are ensuring that parents have the knowledge, skills, and resources they need to care for their children. Many of our families do not have access to healthcare, adequate food nor safety nets. By providing caretakers with tele-therapy, tool-kits, home-schooling resources and support groups, we are doing what we can to help them navigate this crippling crisis.
We're incredibly blessed to also have tremendous support from our beloved champion donors and volunteers who have been providing virtual math tutoring, donating gas and grocery gift cards, planting garden vegetables and leading prayers for our girls and their families.
The time to act is now
COVID-19 has made life difficult for everyone—especially children and families. Although the risk to our children's physical health from the outbreak itself appears to be low, the risk to our nation's children for experiencing child abuse and neglect in times of extreme stress and uncertainty is actually quite high.
School and workplace closings can increase stress in parents' lives, resulting from loss of income due to lack of paid leave; an unexpected or irregular need for childcare; and even food insecurity, when school meal programs and other valuable resources become unavailable. Additionally, entire families are sheltering at home, often in close quarters. Children aren't seeing the teachers, counselors and other adults who would normally raise concerns about their well-being. The Covid-19 pandemic has created the conditions for a rise in child abuse that could go unchecked.
Already there are reports of a surge in suspected child abuse cases in Texas and domestic violence cases in New York. When there is household dysfunction — domestic violence, parental substance abuse or a mental disorder — the risk of child abuse goes up, and there's reason to believe all of these things will increase during this pandemic. Children could also be at risk for sexual violence in particular. An estimated one in four girls are sexually abused by age 18, and the abuse is typically perpetrated by a family member in the child's home. Our new 'normal' — the lack of opportunities to seek refuge outside the home combined with the difficulty of finding new living arrangements when money is tight — makes it even less likely that children will be able to escape their abusers.
And the resources many at-risk parents rely on — extended family, child care and schools, religious groups and other community organizations — are no longer available in many areas. Many child-protective organizations are experiencing strain with fewer workers available, so they may be unable to conduct home visits in areas with stay-at-home orders.
To add to the tension, children are also experiencing their own stress and uncertainty about the pandemic. Stressed parents may be more likely to respond to their children's anxious behaviors or demands in aggressive or abusive ways.
What can parents do
Focus on keeping their stress as low as possible by taking walks or limiting media exposure
Prioritize self-care and take a break from parenting duties to lessen the risk of lashing out at a child
Attune to their own needs as well to maintain balance
Practice the following six protective factors
Ways to make a difference
Access coronavirus resources for parents and children by Prevent Child Abuse America
Register to view the documentary film Resilience: The Biology of Stress and the Science of Hope on 4/29 here
Sign up for this presentation on 4/21 to learn about the body's threat/safety management system
Spread the awareness through social media using Prevent Child Abuse North Carolina's social media toolkit
Support our girls and their families with a gift
Download this Resource Guide to help prevent child abuse
If you suspect a child has been abused, neglected or become dependent, call 919-212-7990 (English) or 919-212-7963 (Spanish)
Caretakers or not, we all have a duty to protect the welfare of children in our community, especially the under-served. The odds are stacked against our world right now, and they are stacked even higher against our girls. Every child deserves to feel safe and loved.