Background
Latinx Heritage Month recognizes and celebrates the contributions Americans tracing their roots to Spain, Mexico, Central America, South American and the Spanish-speaking nations of the Caribbean have made to American society and culture. The observance was born in 1968 when Congress authorized the president to issue an annual proclamation designating National Hispanic Heritage Week. Just two decades later, lawmakers expanded it to a month-long celebration, stretching from September 15 to October 15.
What's the significance of September 15? It's a historically significant day that marks the anniversary of the independence of five Latin American countries: Costa Rica, El Salvador, Guatemala, Honduras, and Nicaragua. The designated period is also a nod to those from Mexico and Chile, which celebrate their independence on Sept. 16 and Sept. 18, respectively. Here are four women of Latinx heritage who we chose to highlight: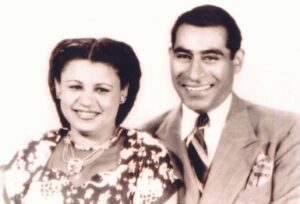 Felicitas Mendez
Mendez was born in Juncos, Puerto Rico, in 1916 and later moved to the small town of Westminster, Calif. She married Mexican immigrant, Gonzalo Mendez, in 1935 and the couple opened a neighborhood cafe and later ran a successful farm. The Mendez family's three children were refused enrollment at a local public school based on their ethnicity in 1944. The family fought back with the lawsuit Mendez v. Westminster along with four other parents. Mendez helped to spearhead and win the monumental lawsuit in 1946, which resulted in the first U.S. federal court ruling against public school segregation nearly a decade before Brown v. Board of Education.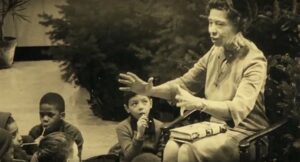 Pura Belpré
A woman who was just visiting New York to attend her sister's wedding, Pura became the first Puerto Rican that the New York Public library hired in 1921. She traveled the city, bringing "Spanish to the shelves" to both Hispanic and English communities. Pura blossomed in her new position so much that in 1929 when the Hispanic community was growing in southwest Harlem, she transferred and became the advocate for the community; instituting bilingual story hours and implementing programs to learn more about Latino based holidays such as Three Kings Day. As a result of Pura's work, so many Hispanic communities were able to engage in storytelling and learn about their heritage through folklore. A couple of months before she passed, Pura received the New York mayor's award for Arts and Culture and in 1996, the Pura Belpre Award was established by the Association for Library Service to Children to continue to acknowledge the work Latino writers and illustrators do to best portray their cultural experiences for children.
Virginia "Ginny" Montes
Coming to a new country at just 10 years old is pretty hard. While Montes faced a lot of hardships, she ended up becoming the first Latina to become a national officer of the National Organization for Women. Her passion to advance women's rights started while she was a student getting her bachelor's degree in Sociology. She became the director of legislative research for the Southern Regional Council where she helped develop legislative analysis on issues related to civil rights, poverty, children, and housing and later on became a member of the National Organization for Women where she served as government liaison officer, two terms on the national board of directors, and eventually two years as national secretary, being the first Latina to become a national officer. During the time Montes was secretary, NOW (National Organization for Women) celebrated its 25 year anniversary with a Global Feminist Conference that attracted women leaders from around the world and ran "Elect Women for a Change" campaigns in several states that supported feminist candidates to win the primaries. Her passionate drive to work helped thousands on every level, from local to national, and while she is not a known figure today, her impact will last a lifetime.
Demi Lovato
The pop singer, who's of Mexican descent, is no stranger to advocating for mental health. Having been dealing with mental illness herself, Lovato has gone through her own journey of finding tools and coping mechanisms that best fit her when seconds feel stretched to be miles. While most of her songs shine light on things such as anxiety and eating disorders, in 2017, she released a documentary "Simply Complicated" about her struggles with relapsing and what others can do, which is to keep moving forward. While there are screaming fans at all of her concerts, there are countless of those who have silent tears when they meet Lovato, for they feel as though she gave them a voice to express themselves and their own personal struggles.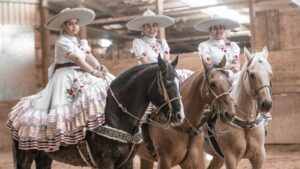 An All-Female Equestrian Sport
In Mexico, the sport of horseback riding is called charrería and for the longest time, it was a male dominated sport, until the late 1990's. Wearing a traditional dress, the women who practice Escaramuza Charra, an all-female equestrian sport, ride as an eight women team and perform choreography that took months of training to perfect. Those who don't live in Mexico, still participate as a way to connect to their heritage, like the Coronelas de Illinois. It is a tradition so strong that the United Nations Educational, Scientific, and Cultural Organization recognized it as an Intangible Cultural Heritage of Humanity.
Latinx CORRAL Community
We are blessed to serve Latinx families at CORRAL, to receive the help from our Latinx volunteers, and to have two Latinx staff members and a board member on our team! Tune into our social media over the next four weeks, as we highlight each of them and how their heritage has shaped their lives.
We just enrolled three Latinx girls in our Join the Herd program, a 12-week group equine-therapy program, specifically focused on building relationships and coping skills through healthy relationships with our rescue horses and with the support of our Mental Health Services Manager. Ideally, our Join the Herd girls matriculate into our Riding Academy program, which is focused on transformational life-change through long-term and intensive healing and educational support. Support our Latinx families here!