Imagine this. You rise around 6 a.m., Monday through Friday; you head out to school to arrive around 7:30 a.m. You finish classes around 2:30 p.m. Then one afternoon a week after school — Tuesday, Wednesday or Thursday — your head off for tutoring, chores and horsemanship from 4–7 p.m. On Saturdays, you're up early for a full day of tutoring, chores, team building and horsemanship.
Weekly Schedule
Wondering whose schedule this is? The 17 girls who enrolled in CORRAL Riding Academy have been following this schedule since CORRAL started up for the school year in August. They'll continue this pace until school lets out in June. You've heard us say it and it's true: our girls are awesome.
Each CORRAL girl receives 11 hours of instruction on Tuesdays, Wednesdays and Thursdays from 4–7 p.m. and Saturdays from 9 a.m.–5 p.m. During the week, the girls set the community table upon arrival, share a snack and catch up with one another. After settling in, half of the group attends horse time where they work on their relationships with CORRAL's 11 horses and the other half attends tutoring; after 90 minutes, the groups switch.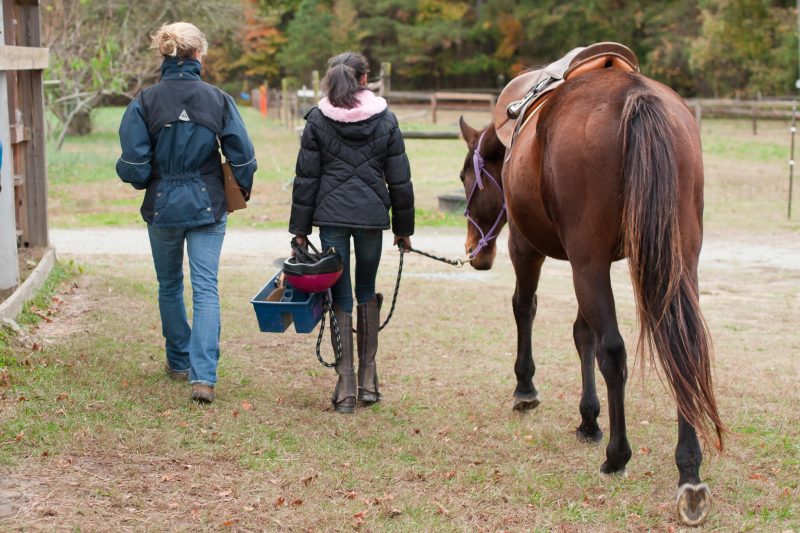 Saturdays at the Farm
Saturdays look a bit different.
The first hour, the girls attend a morning meeting and devotional. They all transition to tutoring until 11:15 a.m. After that and until 5 p.m. the girls break into three groups that rotate among horse time, vocational learning and chores. The vocational training includes a host of life skills from personal finance to cooking, college preparation and gardening. The chores are obligatory and include barn work, outdoor work and housework. And our girls are outside working unless conditions are dangerous; rain, snow and sleet don't stop these girls!
Sound grueling? Perhaps. Tiring? Maybe. What we know with certainty is that our girls love it at CORRAL! We hear them talk about the atmosphere being like a second home. They have friends at CORRAL. And, the herd is a support structure for them.
Our girls love it!
It is true that CORRAL gives tough love and has high expectations for the girls. Our girls respond to these expectations and know we're behind them loving and supporting them the whole way. As important, when girls participate in our program, we see an improvement in their grades and behavior.
Want to know more?
If you're interested in knowing more about CORRAL's work and results, take a look at our annual report. And if you'd like to know more about volunteering with CORRAL, attend our upcoming Breakfast on the Farm or drop us a line.